The Estonian presence at Expo 2020 Dubai is an extension of the most advanced digital society in the world, reflected by three keywords: digital, smart, and sustainable. In the Estonian pavilion, you get also a glimpse of the future of education – with a classroom of the future and the best of the EdTech solutions are on display.
The full article by Maris Hellrand can be read on the e-Estonia webpage
Estonia has experienced the transformative power of digital development over the last 30 years since restoring its independence in 1991. Digitalisation has served as an equaliser within the country as well as in international competition as it makes countries more efficient. EXPO 2020 Dubai offers a global platform to showcase Estonia's digital story and present the different companies and organisations that have helped build and continue to develop it.
Just as the Estonian digital society was born and continues to evolve in a public/private partnership, Estonia's presence at EXPO is driven by a similar approach. Andres Kask, General Manager of the Estonian EXPO Foundation, points out that this time Estonia's participation comes at the initiative of the companies while the government is supporting them.
"It's a team effort," he says. "The companies need government support in making Estonia known abroad. Many companies have had to promote Estonia internationally themselves. Today, the state will promote Estonia as a country at the world exhibition and help to open doors for our companies. Estonia's advantage is that the state and companies are small and able to help each other in an agile way."
Digital
Andres Kask: "Estonians live a digital lifestyle and, for us, using digital services is like brushing one's teeth. In our pavilion, you will meet our partners who have built Estonia's digital society and they will show you how to do this in your own country."
Estonian Association of Information Technology and Telecommunications (ITL) is one of the key stakeholders as digital solutions represent the largest segment of Estonia's exhibition. Andre Krull, Chairman of the Supervisory Board of Expo 2020 Estonian Pavilion, former President of ITL, Managing Director of Nortal, describes Estonia as a sandbox and test site for digital services, explaining: "Digital transformation in Estonia happened because the government and private sector jointly created a digital identity for all residents. To achieve inclusivity, you have to act politically and create regulations. Tech makes it easier and cheaper to deliver services to people."
In Estonia, tech companies are used to getting things done quickly, implementing digital solutions at home, and then exporting the knowledge all over the world. This is on display at EXPO.
On top of the pavilion displays and events, Estonia is adding a digital layer of activities to the EXPO theme weeks on all topics ranging from space to health and water management. There is hardly an aspect of life today that is not touched by digital development.
Smart
As 1st in Europe in the OECD PISA test, the same tests have shown that Estonia has been successful in increasing equity in education – here, everyone has the access to high-quality education.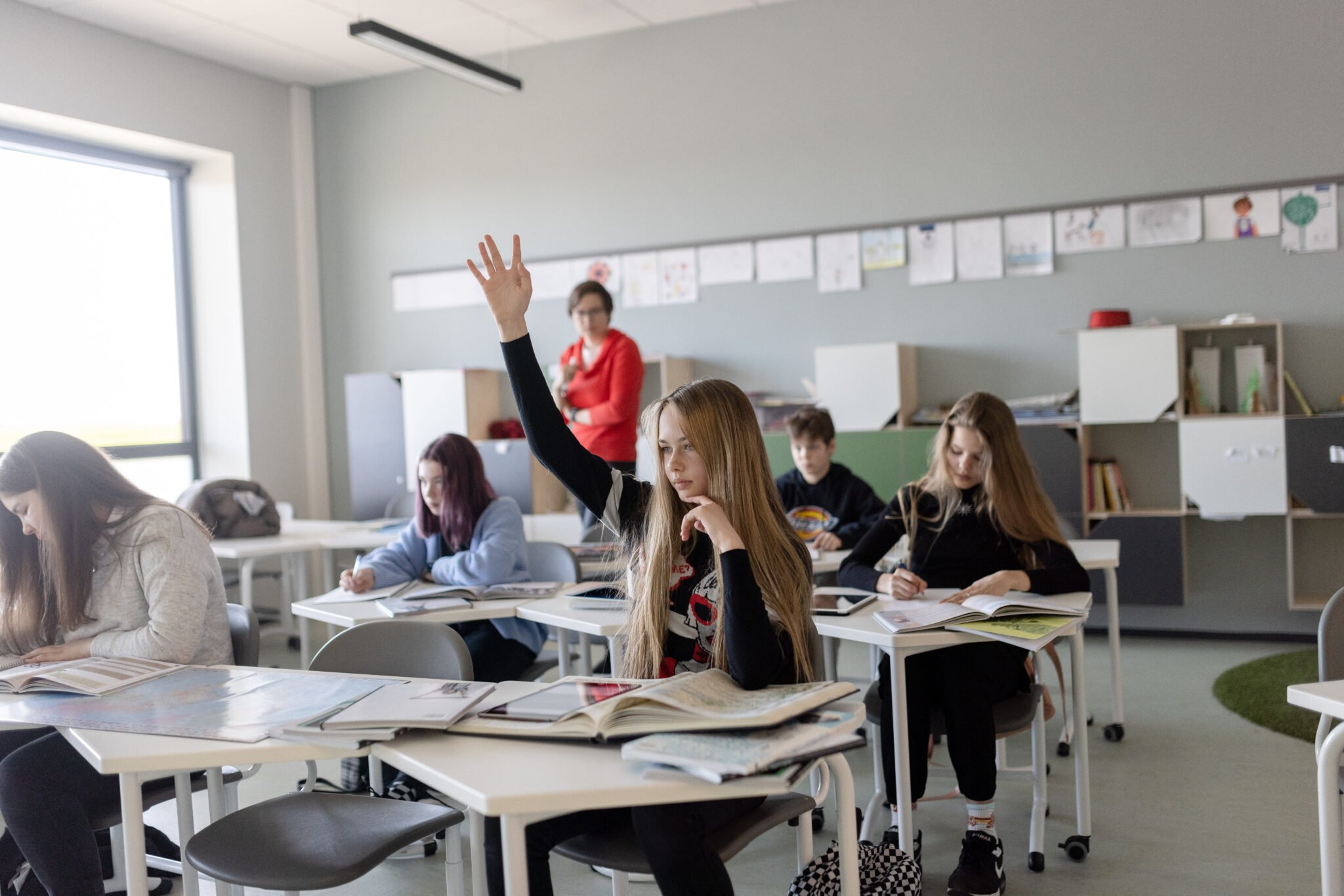 "We are an education nation, and our biggest asset is educated people. In our pavilion, you get a glimpse of the future – with a classroom of the future and the best of our ed-tech solutions are on display," promises Andres Kask. The year of the pandemic has accelerated the development of educational tools and concepts even further. The generation of "digital natives" studying today adapt to the new technologies almost intuitively. The classroom of the future couples practical experiences of using smart technologies in education with the latest teachings methods simultaneously with a fun, friendly learning environment to ensure that kids learn best.
"Planning for the EXPO in itself has created a fruitful synergy between companies from different fields," says Kask, pointing to the cooperation between the furniture manufacturer Standard and the Estonian Education and Youth Board.
Part of "smart" Estonia are two of the country's leading universities – TalTech and the University of Tartu . Both are taking the opportunity to present their spinoffs and innovation projects with companies that are still in the R&D phase.
Sustainable
Digital services have helped to make Estonia more sustainable by saving time, money, energy, and materials. All the digitally signed documents that have not been printed, the car journeys to government offices that have been avoided, have thanks to digital services helped to reduce the environmental footprint of the country. Around 100 Estonian tech companies have signed the Tech Green Pledge, promising to be completely climate neutral by 2030 and to encourage joint action by the ICT sector worldwide to reduce its environmental footprint. Digital technologies have the potential to reduce the CO2 emissions of the world by 20% by 2030. World`s largest civic action Let's Do it World, with roots in Estonia, is also focusing on tackling digital waste and its Digital Cleanup Day actions will last throughout EXPO.
More than 40 enterprises and organisations are present in the Estonian Pavilion, every one of them with an inspiring story to share. Estonia's mission at EXPO Dubai is to show the world how to build a modern information society – a great place to live, work and do business because digital solutions save energy, time, and money.
"As the world has been locked down for nearly two years, Dubai EXPO is the first opportunity for the world to get together after a long drought," says Kask. He acknowledges that export will not happen while countries and businesses are in isolation. "Here in Estonia we are used to doing most things online, including business. This is not the case in the rest of the world, especially in Asia and the Middle East. You have to get to know people and it takes face-to-face meetings to build a relationship. This is a real need today."
Estonia has a great opportunity to share its 30-year experience of digital development with the entire planet. In fact, one can be part of it even without travelling to Dubai as the Estonian pavilion at the EXPO can be visited virtually as well. Global Virtual Solutions will broadcast the most important events of the pavilion programme online and provide a platform for interesting discussions.
Andres Kask: "We will not shy away from sharing lessons learned. Accepting mistakes and failures is part of the start-up mindset. We do not yet know what the world will be like tomorrow. But for many countries, we are already living in this tomorrow. We will then show our best in technology, education, innovation, and sustainable entrepreneurship."
Read the full article on the e-Estonia webpage
Estonian digital educational solutions at EXPO
Mobi Lab – augmented reality solutions for education.
Online student admission solution DreamApply.com.
Virtual teachers' room Clanbeat.
Tutor.id connects tutors and students in all subjects – school-related or soft skills. 
Eliis – online software solution for preschools and kindergartens.
eKool , a school management system.
Opiq which enables to digitize core curriculum learning content.
Schoolaby brings all the tools needed for class or remote studies into one place. 
Speak TX – a digital speech therapy platform for kindergartens, schools and healthcare providers.
Related