The reason why we interviewed an expert from Estonia, is simple, writes Alexander Kaffka in Caucasian Journal: "Because Estonian students are the best in Europe. According to recent PISA results, the Estonian 15-year olds have Europe's highest scores in all disciplines."
Can you outline 3 main factors (or more, if you wish), which led to your country's success in education? To what extent are they unique to Estonia, i.e. related to the country's traditions (value of education), national character /mentality, or its political situation?
Gunda Tire, PISA National Project Manager at Education and Youth Board: There are many factors that contribute to success in education. One of the most fundamentals is the attitude of the families or society towards education. Estonians believe in education, and this belief has been essential for centuries. Also, after the regaining of independence in 1991, Estonia made many decisions that have proved to have a positive impact. Estonia learned a lot from Finland, as Finland is close geographically and the language spoken in both countries is easy to learn, as they are both Finno-Ugric languages and have similarities. We looked at the Finnish education system, their textbooks, teaching styles and considered those when reforming the system. Estonians believe that it could always be better in everything they do. I think the eagerness to learn and to improve has led us to the current situation.
Are there any original know-hows or other specifics in the Estonian education system, of which the country is especially proud?
Estonia is very proud of its digital achievements on the country level and also in education. The introduction of digital technology that would support learning has been important for both teachers and students. Teachers use more and more tests and tools that would help to detect the knowledge of students, and students use digital learning materials in e-Schoolbag and other applications that would assist more effective learning.
Many people think that "best schools" = "private schools". However, if a school is expensive that does not guarantee that it is good. What's the situation with public vs. private schools in Estonia? What's the people's perception about "prestigious" education? Do the kids from rich families go to the same schools as the poor?
In Estonia, the education system is based on public schools. There are slightly more than 10% of schools, which are private, but in general, people trust their public-school system. Estonian parents should not worry about where their child goes to school, good public education should be available everywhere. Of course, there are schools, especially in Tallinn and Tartu, that are more popular and more parents want their children to go there, but those are also public schools. Some of these more popular schools select their children with aptitude tests, but the acceptance to school is not connected with the social status of the parent, but rather from the test results. In general children from mixed socio-economic backgrounds go to the same schools.
And by the way, is it correct that all Estonian schools offer free lunch and even free transportation to and from school? 
This is true. The Estonian school system is based on the principle of equity. Schools should provide the best learning conditions to all children, assist them if they need help. All children get free hot lunch and free textbooks. School transportation is provided by the municipality, and if the parents pay taxes to that municipality, the school transport is free. There are also many after school activities provided by schools that are free, and many students from poorer families can join and develop their talents.
Another typical problem is the "old-school" teachers – people who were trained in the old system. How was this issue addressed in Estonia?

We have many old school teachers. According to the TALIS (OECD survey for teachers), the average age of Estonian teacher is 49 years. There are many teachers that are close to retirement age and this is an issue that the Estonian system has to deal with very seriously.
In Estonia, we believe in lifelong learning. That means that in order to make progress everybody has to learn all the time.
Schools usually spend 1% of their budget on teacher training, and there are many trainings and courses that are available for free. The expenses of many teacher trainings are covered by the state, or European Union assistance money. Data shows that basically all teachers participate in different courses and seminars during the academic year. Teachers might be more traditional, but they are very much aware of the new and more modern ideas in education, and they apply a good mix of both in their work.
As a PISA professional, can you talk a bit about general global or European trends, for example, are Chinese/Asian students strongly outperforming the Europeans, and why?
Overall, the trends are not positive. Since the beginnings of PISA, there are very few countries that have improved their results, many show a negative trend, which means that the results have been declining. European Union is very concerned about low performing students. As students with low skills will have difficulties in their future, it is particularly important to pay attention to them. As I mentioned earlier, the low performers are students who score below the second level of proficiency. European Union has set a benchmark to have at most 15% of students in this lower share, but there are only four countries that have reached this goal: Estonia, Ireland, Finland and Poland. In general, 21.7% of European Union students show very poor results. In Asian countries the shares of low performing students are low, less than 10%, they pay attention to their students so they would not stay behind in their knowledge and skills.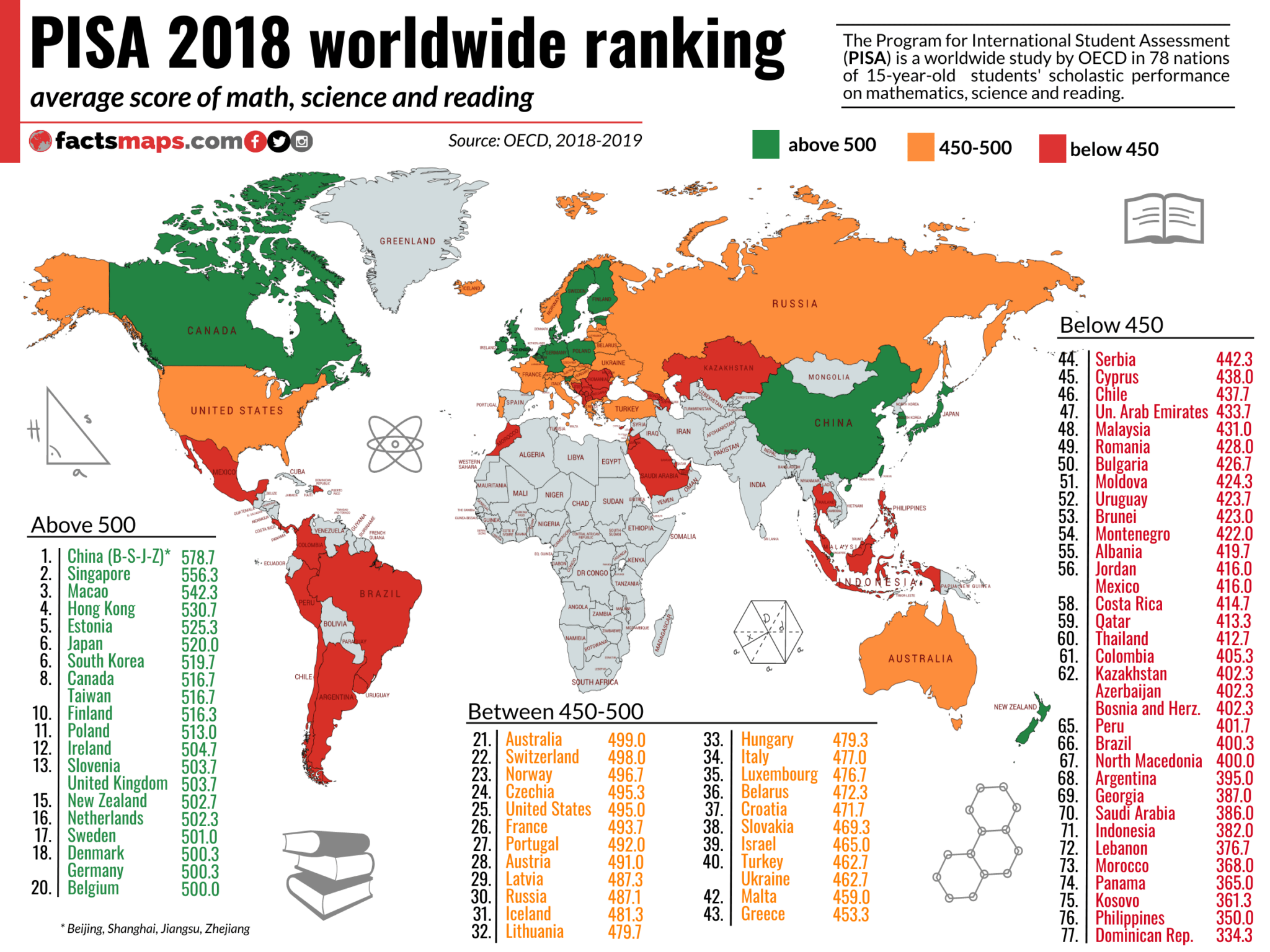 Are the children's reading skills generally getting better or worse over time? Are today's 15-year olds reading less than some time ago? Is the average 15-year old student better educated than 10 years ago?
Children read differently today than ten years ago. This can be said about the grown-ups as well. The classical paper reading has been substituted with online or digital reading. Ideally, it should not matter, as paper or computer is just the medium for obtaining information, but in reality, it does. Different skills are needed to find information online, make a distinction about the validity of the information. For example, students in the PISA test had to decide if the provided information is a fact or opinion, and it was quite a difficult task for many of them. They had to navigate between different sources to find the answer to the test questions. Navigating seemed to be easy for our students.
In general, students have the skills to operate in the digital world, but it is more difficult for them to reflect and evaluate the information that they have found. From Estonian data we cannot say that students read less; girls read more and with better results. There are still students who read for pleasure, and those have the best scores. We can see that the ways students communicate have changed, they do not write emails anymore (only to their teachers), they do not read paper newspapers, but do that online, etc. This should suggest the education systems around the world adapt to the fact that computers are here to stay, and students are so attracted to them. We need to use the digital world more efficiently in the learning process, make it interesting and challenging. I would not say that students are less educated than 10 years ago. We need to find the reasons for the underperforming of students, and digital technology is a good tool to do that.
A question about PISA's feedback and interactivity: How Estonia is using the PISA results for adjusting its education system? Is there any mechanism in place? And vice versa, is there any way for you to make any improvements to PISA's future evaluations?
PISA does not say why something is the way it is, it just shows the picture. We learned from PISA that students from Russian medium schools have lower results than their peers from Estonian schools. We have tried to investigate the reasons, have some ideas, but have not managed to fix them. This has also created a lot of discussion in the society, also among the politicians.
PISA is for us more of an instrument that points out which areas of our education could be improved.
Similarly, in the early PISA years (Estonia joined PISA in 2006) we decided that there could be more top-performing students, we became aware of the issue and many schools decided to pay more attention to their smarter students. Now we see that the share of top-performing students in reading has doubled since 2009. PISA for us is more of an instrument that points out which areas of our education could be improved; we do not do things to be better in PISA. We also give feedback to schools that have participated in the survey. The information is only about the individual school and they like to get an indication as to how they are doing.
As to the future of PISA – it is popular, more and more countries want to join it. The issue for its organizers is to manage all the countries and maintain the quality and comparability. The survey draws a lot of public attention, but in the end, PISA is mostly needed in each participating country individually. Each education system has its own cultural and historical background and that should be given to the new generation. We try our best, but why is that the same age students can solve the same problem much better in one system than in the other? If the future is getting more and more global, then students from any country should have similar skills to tackle the global problems and be allowed to apply for jobs available anywhere in the world. The education systems from around the world should be there to assist their students.
The full version of the interview was first published in Caucasian Journal and is also available in Georgian.
Related